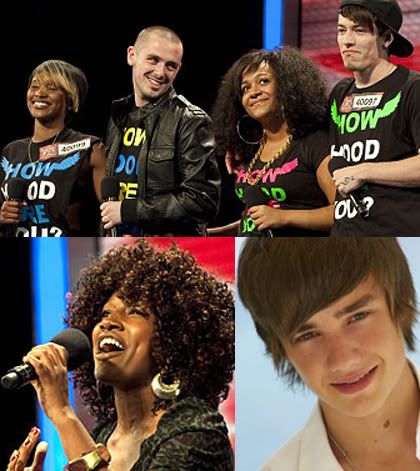 The talent on reality show The X Factor seems to be wearing thin as more and more rejects from previous years are being given second chances.
At the auditions in Birmingham this week three rejects who reached judges houses before being ousted were put through to the next round (reminiscent of Alexandra Burke anyone?).
Harmony Hood and Liam Payne were at Louis Walsh's and Simon Cowell's houses last year while Treyc Cohen reached the same stage in 2008.
Liam, who was only 15 years old when he first auditioned and he so impressed the judges this year that he got a standing ovation and a resounding four yeses.  Now 16, and with his Justin Bieber / Zac Efron looks, he's sure to be going to the same stage this year and maybe even further.
Simon had said he was "too young" the first time round but this year insisted, "This goes to prove my point. Two years ago I said you needed to go away for a little bit.  You've changed into a man and are so much better for it."
Treyc came back two years later after her attempts to launch her solo career failed while Harmony Hood have renamed themselves as New Status after losing out on the live shows to Jedward last year.
Meanwhile guest judge, Natalie Imbruglia, who was met with taunts of "one hit wonder" from the audience earlier this week, did little to redeem herself after putting through a girl she knew, "I recognise you. You sang at my birthday a few years back. I remember because it made me cry it was so amazing. I'm definitely putting you through."
Imbruglia also raised eyebrows when wore the same outfit two days in a row.  Oh Natalie, you have so much to learn.